NFC South Race Getting Intense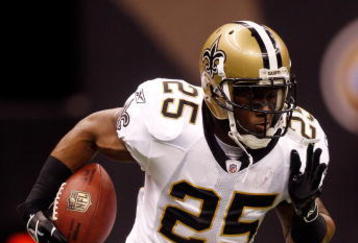 Here's a quick way to get dizzy: Look for the defending division champions in the current NFL standings.
Not one division winner from 2009 is alone on top this season. The New England Patriots (6-2) and Indianapolis Colts (5-3) are tied for first place in their sectors, and the others are either playing catch-up or are also-rans.
How teams got where they are halfway through the schedule, and where they might be headed:
Let's start with the place where the Super Bowl champions reside. The New Orleans Saints (6-3) trail the Atlanta Falcons by a half-game.
New Orleans has begun to gets it offense on track, but needs running backs Pierre Thomas and Reggie Bush to get healthy. The defense has allowed the fewest points in the division.
The Falcons (6-2) have ridden the big plays of Matt Ryan throwing to Roddy White, the power running of a healthy Michael Turner, and a solid run defense to the best record in the NFC. They already have a win at New Orleans.
The Buccaneers (5-3) are on the rise, with a penchant for comeback victories behind rapidly developing QB Josh Freeman and rookie wideout Mike Williams. Their run defense is suspect, and they are raw.
Carolina is a mess under lame-duck coach John Fox.
Projected Winner: Saints.
Yes, the Bears (5-3) are in the mix, but their inability to protect QB Jay Cutler and get sacks figures to hurt down the stretch. Four wins came against last-place teams.
Green Bay (6-3) can really use this week off; no NFC team has more key injuries. If the Packers get healthy, they are Super Bowl contenders, particularly if they find a running game to complement Aaron Rodgers and his receivers.
Minnesota (3-5) leads the division in drama. It also has a relatively easy upcoming schedule, but can Brett Favre hold up? Strange question considering his record ironman streak. It's been a strange year.
Detroit (2-6) is vastly improved despite its weak record, with a young core led by 2010 draftees Ndamukong Suh and Jahvid Best.
Projected Winner: Packers.
The debacle in Dallas (1-7) has taken the attention away from how well the Giants (6-2) rush the quarterback (24 sacks), run and throw. What the Giants haven't done is beat a top contender.
The Eagles (5-3) impressed in Sunday's victory over Indianapolis with a balanced offense led by the rejuvenated Michael Vick and a healthy DeSean Jackson and LeSean McCoy. They need more consistency on defense.
Mike Shanahan's weird benching of Donovan McNabb could lead to more problems in Washington (4-4). Could Dallas have any more problems?
Projected Winner: Giants.
A potential nightmare for the NFL: a sub-.500 team winning this division.
St. Louis and Seattle are 4-4 and struggle on the road. The Rams are gutsy and top overall draft pick QB Sam Bradford has been superb despite few threats around him, except RB Steven Jackson. The Seahawks have been outscored by 51 points and are banged-up.
Arizona (3-5) can't find a quarterback or a defense. San Francisco (2-6) was the division favorite coming in, but poor coaching and communication has hurt.
Projected Winner: Seahawks.
If the Colts (5-3) can't get healthier -- their receiving corps is particularly depleted -- it won't matter how well Peyton Manning plays. The defense can rush the passer, but there have been coverage issues and the run D is weak.
Tennessee (5-3) has displayed a strong pass rush (26 sacks), has an AFC-high 13 interceptions and RB Chris Johnson has yet to go off. Big question: Randy Moss' effect?
Houston (4-4) was a fashionable pick for its first playoff berth, but can't cover anyone and doesn't get turnovers. Jacksonville has done well to go 4-4.
Projected Winner: Titans.
The race between the Steelers and Ravens, both 6-2, could be the best in the league. Both have powerful, opportunistic defenses that will get stingier the next eight weeks. They have strong QBs and running games, great leadership and the mindset that they own the division. Their meeting Dec. 5 in Baltimore might be the spiciest matchup remaining.
Cleveland (3-5) has impressed with wins over New Orleans and New England, but doesn't have the skill position guys to climb into contention. Cincinnati (2-6) has been weak on the ground and inconsistent through the air, even with T.O.cho. Coach Marvin Lewis probably will be elsewhere in 2010.
Projected Winner: Ravens.
Both the Patriots and Jets, at 6-2, have holes. Despite Rex Ryan's claims, New York's defense isn't nearly as dominant as last season, and the Jets can't win without a strong running game and an effective blitz. New England is asking Tom Brady to carry the offense that is in transition, and the defense is up and down.
Miami (4-4) hasn't won at home yet. QB Chad Henne and RB Ronnie Brown must improve and the Dolphins need to protect the ball better (minus-7 in turnovers).
Buffalo (0-8) hasn't won anywhere, but the Bills are playing hard and should get one soon.
Projected Winner: Patriots.
The rise of the Chiefs (5-3) and Raiders (5-4) has made this division as entertaining as any, with lots of juicy matchups ahead.
KC and Oakland both run well, with the Raiders superior in the air. The Chiefs have a league-low six giveaways, a key number as the weather gets cold.
San Diego (4-5) tends to get hot around now and has won two in a row as QB Philip Rivers posts near-record stats generally with a cast of obscure players. The Chargers are injury ravaged.
Denver has won four of 14 since going 6-0 to start last season, plagued now by a wretched running game and worse run defense.
Projected Winner: Chiefs.